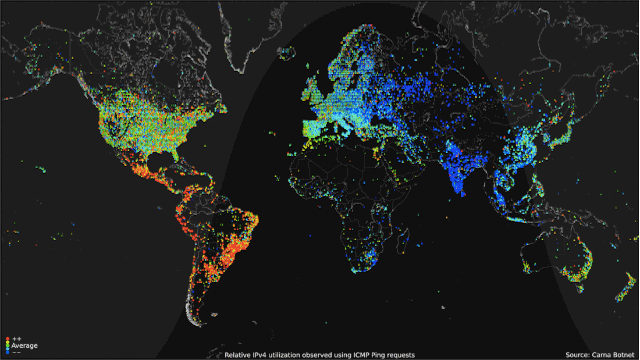 Is all time with technology equal?
Think of this as time on the Internet.    My claim is a little inaccurate, and technologically beyond my scope of practice. This is information based on hundreds of thousands of computer being illegally accessed for information, and the red indicated high computer usage, and the blue indicates low computer usage.  This is people spending time online.
Maybe.
How can we even gauge if time is being spent online or not? Is all time relative online?  Ask any professional gamer or gaming connoisseur and you could get laughed out of the room.
Asking someone waiting for a text message and you get another response.
Even the experience of procrastination and technology is well known and documented. Who hasn't spent time doing something other then what they were supposed to do online?
What is it about the use of technology that changes our experience of time?  In an earlier article I discussed Rushkoff's thoughts into Presentism, and the fact seems to be that technology forces us to be present to it, and that we spend mental and emotional energy being connected to our technology instead of the people around us.  Is it the same with time?
The Philosophy of Time – Part One
In order to understand the perception of time and of existence itself there exists an extensive knowledge and practice of philosophy called Phenomenology.   The Phenomenology of Time is the exploration of the perceived experience of time not by looking at meta physical or psychological constraints, but by asking what are the prerequisites for the experience of time to exist in terms of what we experience and how it exists in the world.  There are a number of these ideas and concepts which I think are impacted by technology. Those differences create dilemmas in how time is experienced and perceived when we are using technology.
Edmund Husserl is considered the forefather of exploring Phenomenology.  Husserl believed that the main focus of time was as a concept is that is an intention (or intentionality) of the relationships that our conscious has to objects in the world.  In simpler terms,  time is the basis of all of our relationships with everything else that exists, because we can only perceive things through our relationship in time with them.   Husserl gave the example of a melody – he felt that for a melody to in fact be a melody it had to have distinct but inseparable moments.  As observers and individuals with a consciousness, we have to somehow find a way to hold our experiences as both disjointed pieces, but still have them exist in a flowing procession of experience.  Husserl felt that there was no other way that we would be able to perceive and understand consciousness unless it was in some way a whole instead of a patchwork of experiences which somehow happened independently.
This means that occurrences which are not temporal in nature, such as a passing by of a car, are very much impacted by the fact that there is time passing by in which the car is somewhere, and then somewhere else. It's not possible if it just were two separate events. We conceptualize reality not by those most tiny of micro transactions which constitute an event, but by an event itself.  Also, Husserl felt that the idea of time depends upon a series of  events but experiences themselves are not yet an experience or perception of succession.  This means there has to be something holding these things together, Husserl argued that it is what we could call the present – we only imagine the past in a present state, and consider the future while still in a present state.  We don't actually go to the past or the future, we are still here and now, considering them, because consciousness only sees time as a progression, not an random assortment of occurrences.
Just how joined together are our experiences, so that they form one continuous consciousnesses? Husserl considered this phenomenon in his later work, as he wished to explore the immediacy of experience and just how wide the experience of the present could expand, and at what points it could be differentiated from the past and perceptions of the future.    Husserl discovered that the present is always looking to the past and conceptualizing the future in ways which is relative to itself.  Husserl also conceptualized that for consciousness, and therefore time to be be possible, we have to have two simultaneously operative intentionalities in relation to existence. Langsintentionalität, or horizontal intentionality, perceives and understands and the flow of time, and anchors us into the flow of the living-present. The other mode of intentionality,  Querintentionalität, or transverse intentionality, runs from the living-present to other objects which people become aware of in relation to time. Without either we wouldn't be able to perceive time in terms of what is actually happening in the moment. In the simplest of terms horizontal intentionality is the experience of flowing and living in time, and transverse intentionality is the experience of interacting with other objects and phenomenon.
This brings a dilemma into how human choices with technology impact time when we use technology.  The Internet, if we use Rushkoff's theory of Presentism, is similar to what Husserl would name as the present, but also holds onto the past and present indiscriminately, in a way which very few humans can do.  The Internet in particular, has myriad ways of conceptualizing the present which mixes in both future and past so that it creates situations where humans are forced to expand their own lived experiences just to exist in this new constraint.  We live in the present, imagine the future, and remember the past.   Altering the presentation of these ideas, by altering how the flow of consciousness exists is one of the  human choices that technology offers us.  The technology exists to conceptualize present as something other then the immediate here and now, and it's become widespread without us even realizing it.
Swinging on six second Vines
Let's use some of the videos in the beginning of this article to show this.  The humorous 6- 7 second video where Thomas Sanders expressed thoughts related to procrastination is called a Vine.  Not everyone is pleased that Vines exist.
What does it mean to change the human perception of what something is in time? David Zaleski of I-Media Communications makes a good point in his video critiquing why a Vine  could change the formatting of commercials so that "fifteen seconds, thirty seconds and god forbid one minute ads might soon become unwatchable".  As technology progresses and makes things easier to do, we have to be mindful of how society will shift and change in relation to how our technology inspires us to absorb and process information.  If we are suffering from a constant impact of information or attention on our present selves, it's quite possible that we need to consider the impact that has on our ability to hold onto the meaning of an object, the transverse intentionality. If we change one intentionality, we change our relationship to the other one,  horizontal intentionality, as well. When we change our actual perception and commitment to spending time, at least through what Rushkoff is telling us with presentism, are we risking that we expect gratification so incredibly quickly that we might never get it?
Humans, unlike our technology, aren't progressing quickly towards quicker and quicker processing of information.  It took us millions of years to get to our current state, and technology got there in not quite that much time.  Is it so unreasonable to think that a six second video might not have the complexity to express the nuances of important issues?  Zaleski jokingly referred to racist and inappropriate Vines in his understanding of the new tool, but is this the limit of the uses people can find for this type of technology? Could it be that people aren't able to easily create six second bites of knowledge with more substance or merit?  Is a six second experience enough to express humanity?
How about expressing something that people can't tolerate long conversations about? What if it creates too much stress and anxiety, and they are using the six second rule as a way to protect themselves from anxiety?   I've seen hundreds of young black men create vines which have to do with race and cultural issues. Obviously these issues extremely difficult to discuss even today, but the Vine does seen to facilitate it.  There even was an extremely popular Vine star Rashid Polo who created an entire portfolio of white store workers following him around stores in six second clips, because they believed he was stealing things, which he was not.  This is difficult to see, but in 6 second chunks might be easier to understand and accept as a reality for something exceptionally difficult to stomach.  Even Thomas Sander's six second vine brings us back to discussing a difficult Emerging Adulthood problem – what Emerging Adult doesn't procrastinate, and then judge themselves for doing it, as a means to look towards their standards of moving towards adulthood? One of the main focuses of the life stage is moving towards being responsible for yourself.  Is this also an example of a six second parody clip making it easier to understand a difficult situation?
The Philosophy of Time – Part Two
What is it about having choice and control over time that means so much to us that technology is always creating a new  permutations of time control and experience?  Even if these are created as a means to keep you coming back for a stronger dose of technology, they still have meaning to be explored.  Maurice Merleau-Ponty, a philosopher who also wrote on on the Phenomenology of the Body, invites us to take Husserl's concepts one step further and conceptualized time not as an object of just our consciousness or thought, but of of our very being.   Merleau-Ponty also felt that it was impossible to remove the human aspect of our experience sufficiently enough to fully reflect on the impact that time has on our existence and our relationships with the world. His philosophies also included individuals accepting our bodily perceptions and consciousness as two things that happened in union, and could not be disentangled.  It seems that Merleau-Ponty felt that the time spent was what we were, and this bring us back to relating our human choices and what they mean on the Internet. What could happen if we could accept that we are the time that we spend online?  It reminds me of a case I worked on extensively during my first few years as a case manager and how the meaning of time spent online impacted the life of someone significantly.
Case Study – Dave and barely living time
"Dave, fifty five years old, not of this world.  I'm a Dark Elf of the twelfth realm, of the Computer World Azeroth." A wide grin happened as everyone in the room turned towards the voice.
His presentation and introduction would have been more humorous if it wasn't in the context of the psychiatric inpatient unit and during and interview which impacted his getting out.  Dave had been found huddled in a ball by police in his apartment, a part of a Single Residency Occupancy complex, eight months ago. Dave had begun a online game account several years prior, and had an illustrious online life. He spent literally all of his time playing this game, where he had a legion of friends, allies and online wives.  The opposite, his offline life.  Born with only one fully formed arm, Dave would jokingly tell stories about how he lost his other one in a wizard battle after he leveled up in his characters too far.  No one ever got the reference.  He'd tell them about it so much the other patients would literally start beating him senseless to get some silence.  A diagnosis of Aspergers was the expression of this Autistic quality.  Dave didn't consider much of what he said too inappropriate.  I caught one of the exchanges, right before a violent smash across his face.  "You would make a great wife in my guild online", to a six foot tall man, who could have honestly rung Dave's five foot, four inch plump body into mush.
Dave was interviewing for the local Temporarily Living Residence, a unit on the grounds of this psychiatric hospital which he had been denied admission to  before.  Dave wasn't interested in self care either, which he was unable to even verbalize to the Residence staff, but showed daily with his lack of self care.  Dave suffered terrible daily diarrhea due to a diet of canned vegetables and instant meals he didn't heat and honestly wasn't limber enough to wipe properly, so he always was filthy and didn't seem to care. Dave also ordered in food so religiously to the unit, the delivery men knew the security codes to the doors. He was becoming morbidly obese. His clothes were always soiled.  And a long beard hard formed, encrusted with flakes of food.  What Dave seemed to love was attention.  Dave was a vocal the victim of diabetes, leading him to sometimes fall due to Neuropathy of the legs, but typically because he had to be waited on hand and foot by staff after each and every fall to ensure no more happened.  "All this attention for me?  What service!"
After observing Dave get the royal treatment several times after faking an injury and diving for the ground, I realized how Dave was used to a different scale of time for getting his needs met then other people.   I guessed it was from his years of instant gratification from playing video games religiously, I started to be able to work with him more effectively.  In speaking to Dave, I realized that the one and singular reason his cleanliness was so poor was that he felt that the "real world doesn't matter anyway", and that he felt the time off the computer which he was forced to take due to the hospitalization was just a roadblock to his passion of gaming.  "I'm not worth anything here anyway, back home, I'm a king".   Time didn't mean much for David, unless it was in front of a computer screen.
Eventually, David won the war of attrition and out lasted all of the staff on the unit until he was discharged for census reasons.  Weeks of partial hospitalization, several trips to physical health and psychiatry clinics, and Dave's moving to the Temporary Living Residence didn't impact his presentation in the least bit.  Medication changes didn't work.  Neither did therapy.  Dave's one complaint, regardless of the dozens of health and physical health issues he suffered in the residence – no internet.
I finally acquiesced.  We found Dave's old computer in a storage unit, I brought a USB wireless adapter, and logged Dave in via his cell phone connection.  An arrogant grunt thanked me as he dove headfirst into his immerse fantasies.  Three hours later, I return and pull the USB wireless adapter out of it's port. We had to limit his time, as other clients on the unit started complaining about their now wanting to have computers.  Dave pulled back, and with all the seriousness he could muster declared "Time flies when you're having fun. Time grinds when you're in hell!"  Unfortunately, I didn't work with Dave much longer, but years later I ran into him leaving the grounds of the psychiatric hospital after a clinic visit.
Dave was a different man.  He weighed one hundred pounds less, didn't have diabetes any more, was decently dressed and was looking into a supportive work program for the mentally ill.  Impressed, I asked him what happened to his gaming affliction.  "I thought I was me online. What a waste of time!"
Dave's case might shows several aspects of the phenomenological aspect of time which occurs when we stop to experience how people experience their time on and off the internet.  Once Dave found a way to balance this time, and to increase his ability to take care of himself, he naturally found a way to balance the nuances and needs of daily life.  I wasn't around for the treatment that lead to this, so I can't comment on it directly, but definitely Dave started to see the time he was spending as a direct expression of himself, and not as a separate life as he felt when we worked together. Merleau-Ponty's theories into time came true in a sense, Dave was able to create a new sense of self and a better use of his time by being more mindful of all of his needs, not just his emotional needs met by the computer. He actively became the time he spent.  The results were the proof, a man who needed psychiatric hospitalization a few years ago, now lives a more independent and pleasant life.  In speaking with Dave, I used some of my own lived experiences to try to empathize with his computer use in the past –
"Yeah man, when everything else is going wrong, you just don't even want to leave that good place where something is going right.  It's like filling up your self with good feelings".  Fortunately for me, Dave's lack of social skills aided the conversation when he quickly reminded me – " At least when you use the computer, you didn't shit your pants daily.  That shit literally sucked.  My life is better now!"   I smirked, and excused myself as I knew Dave was late for his clinic group.  I currently see Dave most mornings, walking with pride and intent, as I park my car at the hospital which I work at as he walks towards the clinic. He never smiled while he used the computer.  Now, Dave is always smiling.
The difference spent time makes…
I wonder to myself as Dave walks by – What changed about that perception of self that Dave had that he no longer wanted to be a Warlock or Raider in some video game then himself in his real life? How is it that our perception of time and how we spend it changes as we become more and less involved in the digital world? Just a few years prior, Dave described his lived experience of not being on the computer as hell, and now he so casually dismissed it that I almost don't believe it, even to this day.  There has to be a factor in the experience of time, somewhere between us perceiving time and us perceiving coexisting with things we feel would naturally help us survive.  We really do attempt to meet needs in the most interesting ways.  We try to meet our needs much so, that we actively focus on expanding the experience of doing things we enjoy to the point that time itself shifts.  Even if this is just perception, it's still an interesting self soothing strategy that to me as a therapist makes excellent sense. Dave was trying to do this with his computer time, and found a way to apply this skill to more effective means at practical self care in his real life.  Hopefully we can appreciate our time more powerfully, and the time of our clients, with technology or not, so that it could be used in this way as well.
This appreciation for time is shown not only by our own relationships with technology, but with how we create the technology which we use daily.  As much as we can look at the constant speeding up and growth of technology and find something to be concerned about, the variation and availability of ways to express yourself continues to rise as well. Just like how Dave was able to find ways to express himself which did not involve his online guild, we continue to developing technology which could offer someone, somewhere a more nuanced or emotionally safe strategy for self expression and care.  Maybe this speeding up and complication of time and technology isn't the most horrible dynamic in the world?  In the end, it seems that despite the time Dave spend with technology, he doesn't resent it.  Dave only avoids it now, much to his benefit.
How do we create that type of mindfulness in practice that we are able to actually fulfill the full potential of these types of technology and our using them to help others?  Maybe only time will tell.