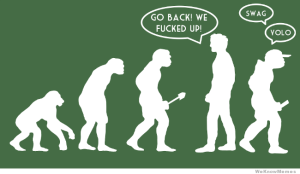 Change.
My memory still flashes back to my parents telling me how worthless the time I was spending online was.  Sometimes I agree with with them.
People are still yelling at me because of my technology use.  A few times a week, my lovely supervisor raises her voice.  This time it's a little different.
It's not me who is in trouble, but my supervisor herself who is in trouble.  Her career is older then I am. She's nearing retirement. And sometimes, because of the fact that she is from the generation before the popularity of the Internet or computers, she is unable to do anything. She yells my name from the end of the hall, announcing that "The computer is broken again!"  A program freezes, a pop up that blocks the screen, a hyperlink that misfires or a document goes to the wrong folder, and she's stuck in time.
Until I pull her out.
This could potentially and literally stop all work for a team of nine practitioners of one of the most advanced, expensive, highly respected, experienced and researched Evidence Based Practice model, practicing community mental health based treatment teams in the United States.
And it happens semi-regularly, at least a few times a week.
Something my niece, who is six, could do instinctively would be more effective in fixing the problem when compared to my my supervisor's vast and coveted forty year career in mental health treatment. My niece grew up in a world of screens and buttons (and buttons on screens), and my supervisor did not. Even today, I caught her improperly shutting down her computer while complaining about something not working, and I fixed the problem in seconds with one finger.   This is a woman who I've seen save lives and heal trauma hundreds of times.  Something about that new type of existence of technology and her relationship in time to it leaves her more or less defenseless.
It terrifies me to think that I might be in her position one day.  She asked me to write about it.  I have her full permission to tell you this story. I've spent the last few articles exploring the commodity of existing with technology in the frame of time.  What's the information we can draw from this practice?
What creates the New Technology and Time Commodity?
Rushkoff, in "Present Shock",  teaches us about Alfred Korzybski, the founder of the Institute of General Semantics, and his idea of time binding.  Unlike any other creature on the planet, humans are able to time bind, or take the experience of one generation and move it on to the next.   This type of abstract thinking was the model that Korzybiski focused on, and he found that meaning was created into symbols and concepts, which allows us to learn the knowledge of other generations without having to find this information out itself.  Rushkoff reminds us that this is many times not complete information.  He tells us that this abstraction is potentially distancing –
"The danger of such a position is that we can forget to put own feet on the ground.  We end up relating to our maps as if they were the territory itself instead of just representations.  Depending solely on the time binding of fellow symbol makers, we lose access to the space binding of our fellow animals, or the energy binding of nature." 
Rushkoff reminds us that we need to use both the time bound information and real world, current information to exist in the world practically.  The thing I find as a dilemma here is that we've created such a divide with technology that the older generations many times feel that they can't share their knowledge of their skills and abilities through the technology meant to do so.  Time binding has speed up, as the Internet and technology have become so effective.  I feel that it's also become so fast and so disconnecting that we aren't able to all interface with it functionally.  This is why my supervisor, who has seen thousands, if not tens of thousands of mental health cases and helped them can still be confused by a cursor and a desktop on the computer.
This could be best understood as the double edged sword of Internet Knowledge.  The Internet is an incredible tool for creating knowledge, as it connects us in faster and more efficient ways then ever before, many times by cutting out the middleman of lived experience. It binds time quickly, easily, and then shares the bound time to everyone, everywhere.  This brings up a dilemma because many of the information points online are of peoples expressions of their lived experiences, but the fact that they are not our own experiences still matters.  At the same time accessing this information seems to be getting more and more specialized, needing a lived experience of being a citizen of the Internet in order to be able to access it.  If you get all of the knowledge in the world in a language or form which you can't decipher, then did you actually receive the information?  This is happening at a staggering rate, because more and more technology and information is being created, and new realities are being created for people to interpret everyday.
<Deleted>
This inability to receive information happened to me repeatedly when I tried to share one of the earlier versions of my multimedia project online. I knew I was going to get some silly responses and posts regarding my work.  It's inevitable.  I entered the world of Reddit, and posted my work on numerous parts of the site to see if anyone would be interested.  Some sparks flew.  A Rutgers MSW student even found the post and started discussing the topic with me.  Then – moderators – holders of the Internet Knowledge – decided my posts were inappropriate for their site.  Post were removed and deleted.  I started to feel like my supervisor at work – as I saw time and time again my link to my website removed over and over again.    Recently I found a Reddit post that caught the energy of how I was feeling perfectly.  One of the answers to the post, one with a lot of praise from the writer's peers online, even documented his experience of the moderators as such –
"I know it's suppose to be a joke but seriously, does it not bother anyone else how the site has changed? You have a bunch of late-teens/early 20's males who are unemployed and a lot of spare time creating "rules" for their subreddits, of which are usually more pervasive on the larger subreddits, and combined with boredom means many posts unnecessarily removed.
It's almost like you want to grab them by the neckbeard, shake them, and tell them to stop fucking touching things. The reason /r/videos, /r/music, /r/books, /r/funny, /r/pics, /r/gifs, etc are popular is not because of excellent moderation, but because of the subreddit name (it's like registering sex.com, you're probably not selling that for millions due to your amazing business but because you were lucky enough to register the name). Reddit is built on the foundation of letting the community decide, so stop touching things.
I mean, I rarely make submissions but I always notice I come back to some submission with 5000+ upvotes and some bored fuck removes it because, well, it vaguely violated rule #27 and my dad left me when I was 6.
The best part is the juxtaposition when creating an analogy akin to the way a country runs itself; countries with free speech (people decide) are infinitely better than the ones which are dictated to (China, NK, etc). But I digress ;)"
How is it that the moderators of the Reddit site could be so distanced from that people would want, so much so that the above comment by kennyko could get so much praise from his peers? Rushkoff tells us that when we use the symbols and shortcuts that exist online, that we are many times not grounded in a self of the real world, and that's the issue that I've experienced over and over again which created issues for individuals who create knowledge through technology.
The Social Worker's Guide to the Internet.
This is the dilemma that is going to be occurring for those new Emerging Adults which are being created by technology today.  In this project I've explored the emotional and practical issues that arise from extensive Internet and technology use, the use others have had successfully and my own ability to create knowledge from my own experience online.  I've realized that it was my own relation to my own non-technology life that gave meaning to the life I spent with technology.  Truthfully, of all the clinical cases I've dealt with that involve extensive internet use which people themselves dislike, I found that slowing down and relating back to their life complete devoid of technology did give them some time to reflect on the life they were living and the time they were spending with technology. This is even true when the slowing down partially includes the use of technology to plan for a future which technology seemed to be taking away.  Technology can't replace human interaction, despite there being more and more of an implication that it can by the commercial forces that govern much of our lives. Rushkoff demonstrates this through his idea of Presentism, that we are forced to attention when technology calls, a reminder that technology only exists because it was created by humans to facilitate human interactions is essential to having a good relationship with it. When people have tried to limit human interaction, or worse, cut them out all together by use of technology, we see them become increasingly unhappy and dissatisfied with their lives.
How we've chosen to use technology as a culture, and how technology is so rapidly changing, is creating new and powerful dilemmas for everyone on the planet.  I've already used a combination of my own self-ethnographic, ethnographic, and netnographic techniques to understand how the world is changing.  In doing so, I've realized I need much more time and resources to drill down to the meaning that our social and non-social lives change due to the influence of technology.  Thankfully, I have the Internet and all of the new technology being created to help me do so.  Not only do I have the technology, but I have a relationship with it that will inform how I can use it help others in their own struggles with technology.
 The Mental Health Practitioner's Shortcut to the Internet.
Relationships.  Never before have we had such a powerful tool to help create them.  And because this tool doesn't actually create real relationships, rather it shortens the perceived time and energy needed to create them, we come up to a quagmire of issues related to its use.  This may seem alien to the practitioner who is not so technology savvy, but this isn't something that is so bizarre when we consider how many emotional and psychological constructs exist that also try to take these shortcuts with not-so-effective results.  As with many forms of therapy, creating mindfulness, slowing down and focusing on the significance of a moment, and honoring the energy and meaning in the interactions and relationships we all have, are the skills that one would use to help someone work on their issues with technology.  Further more, if we honor the meaning and time that people have spent in their relationship with technology, we might be surprised find that it wasn't as much of a waste of time that it is many times considered by the older generation or by those who are not as savvy.  In reality, technology still is the strongest tool we can add to our own lived experiences to to speed up and permanently engrave our own selves into the world.  The fact that technology is not the actual experience itself, but an extension of that experience is our biggest tool to remind ourselves of the significance of human emotion and relation that creates the lives of the people we wish to support.
For example, it's frustrating when I post my work online only to be blocked and pushed down by numerous factors that have nothing to do with human connection, in the same way which I know the effectiveness and potential that human connection has in my life and the life of others.  We have to remember, the internet mixes people like never before.  All kinds of technology skill levels, ages, locations, expectations and life experiences are being combined, recorded, and enhanced in ways that have not existed in the past.    Who wouldn't expect this type of situation to create confusion, and for that confusion to be overwhelming to the users of technology?  Also, why would it be surprising if it was supported by slowing down and looking at the meaning created when we use these skills and talents that we develop by existing within technology?
Let's waste some more time together, even more productively
In conclusion, what do we do with our wasted time?  I've been told dozens of times that the time I spend online was a waste.  I've even felt it myself, pulling myself out of day long trips down meme lane, after a sixteen hour trip to a video game wasteland, or after having some random person delete hours of my work on my doctoral project because they felt it was the wrong topic for their forum.  Yet, since these things still exist in my lived experience, they can still inform important parts of my practice and my existence as a human being.  If we remember that technology does influence our practice and our ability to be human, we can see how human it is to coexist and try to triumph over things which are in themselves unbeatable. Just as we continue to learn from past generations through the use of symbols and concepts, we will continue to learn through technology our own limitations and the meaning that we create for ourselves.   If these symbols, which exist in an attempt to contribute to those who don't even exist yet are commodities that we can use for our growth and development, then the time we spend online and with technology can be seen as a commodity as well.
Our relationship to how we spend time with technology is always a commodity – as long as we have access to it, and continue to improve on it, it will impact our ability to test the limits of our humanity, and as therapists, we have the ability to help others reconnect with the humanity that they feel that they have lost.  It's our role to help people reconnect with the fact that all the time they spend online is a commodity, and that if we can related our online time to real life, then the commodity is not wasted.  It's our role to give this narrative and idea to someone so that they can integrate the time they have spent with technology into the grander scheme of their lives.  I believe that our relationship with technology actually remains our relationships with ourselves – our own wants a desires for spending the limited time we have in existence.  The narrative that such time is wasted or misused doesn't help when attempting to support another in finding their own reason for living.  Just as Radcliffe discussed – depression is a sense where there is no future – and technology can give us that illusion very quickly due to a number of factors out of the hand of the typical user of technology.  It's our job to show that there is a continuous narrative line through the actual and technological world that creates meaning for the future of the people who come to us for help.
As I've said before, in the end, only time will tell how these things play out as we continue to create a culture around this type of relationship with technology.